Bunny Bratwurst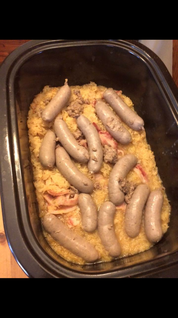 1. Debone 2 1/2 lbs of rabbit or hare.
2. Grind 2 lbs of the cheapest bacon you can fine with the rabbit meat.
3. You could use fatback instead of bacon, but the bacon adds a unique taste.
4. Add 2 Tablespoons each of: garlic, mustard powder, paprika, garlicpowder, onion powder.
5. Add one tablespoon each of: black pepper, sage, & dry Ranch dressing mix (It was an experiment)
6. Add 1/3 cup of salt.
7. Mix well and put into casings.
8. I start cooking sauerkraut the day before I make the bratwurst.
9. When the bratwurst are in the casings, I brown them and then add to the sauerkraut to finish.
10. Sometimes I coook the bratwurst entirely in the sauerkraut and do not brown first.
11. I add a chopped onion to the sauerkraut & let them cook togehter to sweeten it a bit.


---
Rabbit Scampi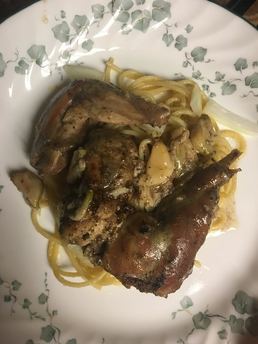 1. Butcher 2-4 rabbits ( four legs and miniature "back straps" for each)
2. Parboil rabbit pieces for 30 minutes.
3. Drain rabbit and dip each piece into egg and then flour.
4. Chop 2 onions and dice small. Saute them in butter until brown
5. Take 2 bulbs of garlic and separtes intto peeled cloves.
6. Add garlic to pan with onions, it can overcook fast. Cook until garlic is golden.
7. In pan melt a stick of butter with 1/4 cup olive oil and 1/4 cup broth.
8. Add black pepper to the butter and oil. If you like hot pepper flakes add some.
9. Combine the garlic and onion with the sauce and let simmer on low.
10. Start boiling spaghetti, or linguini, or angel hair pasta
11. Fry the rabbits in the pan you cooked the onions and garlic.
12. Drain pasta and add it to the scampi sauce (which is withthe garlic and onions)
13. Add copious quantities of parmesan cheese to the pasta and mix well.
14. Serve browned rabbit over the pasta.


---
Rabbit and Venison Meat Pie
​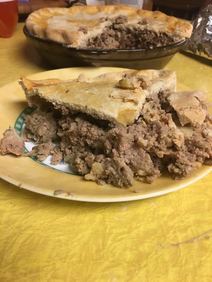 1. Grind 1 lb of venison and 1 lb of rabbit/hare
2. Chop one large onion. Okay, maybe two onions, if you want.
3. Cook the onions in a frying pan with olive oil until soft.
4. Mix the rabbit and venison together with your hands while onions are cooking
5. Add the meat to the onions and cook until it is brown
6. Add 3/4 cup of broth and 1 cup of mashed potatoes (It binds the whole thing together)
7. Add garlic powder and black pepper (use 1-2 tablespoons of each. You know what you like)
8. Simmer until most liquid is absorbed.
9. Chill the meat for a couple hours.
10. Use store bought crust or your homemade. Put bottom pie crust in your 9" pie plate
11. remove the pie filling from the fridge and pat firm into the pan.
12. Add top crust. Do that whole egg wash thing to the top crust and cut some ventilation slits
13. Bake at 375 degrees for 45 minutes or until golden brown.

---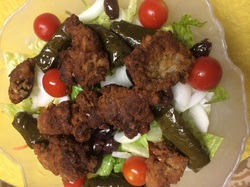 This is my summer garden salad. If you look in my garden there is almost always a rabbit in it! This is my take on a Greek salad--or the Americanized version I eat in various restaurants. Lagos is Greek for hare.

Vegetables: I use whatever lettuce is fresh, spinach, bell peppers (I like them ripe, but green seems more typical), tomatoes, chopped onions, cucumber, and a bit of mint. I try to use these from my garden.

Store bought: Feta cheese, kalmata olives, and dolmades (rolled grape leaves stuffed with rice)

1. Cut the rabbit meat off the bone into whatever chunks it wants to form. Dip it in a batter of your choice and fry the meat until done.
2. Combine the vegetables and the store bought ingredients in the salad bowl
3. Add the cooked rabbit meat and a dressing of your choice!



---
Meat Sauce with Rabbit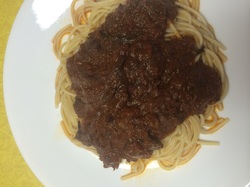 I grew up in a German-American home. We didn't get to eat Italian food. I thought the school cafeteria's spaghetti was good. This meat sauce is based on an Italian dish that I just loved. This is as close as I have gotten to duplicating it. I usually remove the bones from rabbits and grind the meat to make a meat sauce fast--just like you would with ground beef. If you have time, give this a try (using chunks of rabbit meat) for a different texture with TONS of flavor.

1. Start this dish after supper, or before bed in your slow cooker.
2. Chop one onion, a couple peppers of your choice, and a few mushrooms. Dice them all as small as you can and throw them in your slow cooker.
3. Add enough rabbit meat (no bones) to fill the crock pot a little over half way.
4. Add enough of your favorite spaghetti sauce (you know what you like) to fill the slow cooker to 2/3 or 3/4 full.
5. Set the slow cooker on the setting that will bring your particular crock pot to a slow boil. I let it cook overnight. By morning the meat is thoroughly cooked. You can then set the slow cooker to the lowest setting to keep it warm or you can let it cook. The longer it cooks the more robust the tomato flavor and the more finely shredded the meat becomes. I have used venison roast instead of rabbit and cooked the sauce for 20 hours before.
6. I add oregano and basil during the last hour of cooking. It stands out a little better than when it is cooked the entire time.
7. Spoon the sauce over your pasta shape of choice!
---
Chicken Fried Rabbit Steak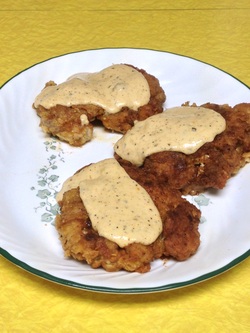 You need that meat tenderizing, cube shaped, mallet thing with the little spikes that mostly gets used for bashing bags of ice.
1. Remove the meat from the bones of a rabbit. One rabbit makes one steak.
2. Use the tenderizing mallet to flatten the boneless meat, while meshing it together into one larger piece that resembles a steak in shape. It may hold together very loosely.
3. season your flour to taste. I use Old Bay, black pepper, garlic powder, onion powder, paprika seasoned salt, and lots of black pepper.
4. Take the "steak" and dredge it in egg & buttermilk, then the seasoned flour, then the egg & buttermilk mixture, and lastly the flour again.
You may have to be careful to keep the steak in one piece.
5. Fry the rabbit steaks in vegetable oil.
Do not flip the steak until it has cooked long enough to brown and keep its shape. It will crumble if you flip too soon.
6. Make your gravy--everybody has their own recipe.
---
Rabbit Cacciatore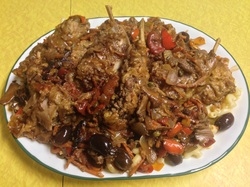 1. Finely cut the following vegetables into a pile: a BIG onion, 5 0r 6 sweet banana peppers, 3 stalks of celery, 5 or 6 carrots. Set these aside
2. Take 8 hind legs of rabbit, dredge them in egg and flour. Fry them in the BIG and DEEP skillet until golden brown on both sides, and then remove from the skillet.
3. Put the finely chopped vegetables in the skillet and cook them until soft.
4. Add 7 cloves of garlic, chopped fine.
5. Add a cup of mushrooms. I like wild mushrooms, but if you cannot get these safely use store bought. I often use 2 cups of mushrooms.
6. When the vegetables and mushrooms are cooked soft, add a splash of wine or balsamic vinegar to get the tasty crust off the bottom of the skillet.
7. Add a can of stewed tomatoes, and a can of chicken broth.
8. Add a thin dusting of the following: oregano, thyme, sage, basil, and rosemary
9. Add a couple handfuls of olives and a small jar of capers.
10. Put the browned rabbit legs back on top, cover with lid, and let simmer until the
the meat falls off the bone.
11. Serve over pasta (or homemade mac and cheese)
---
Mixed Game Vest Corn Soup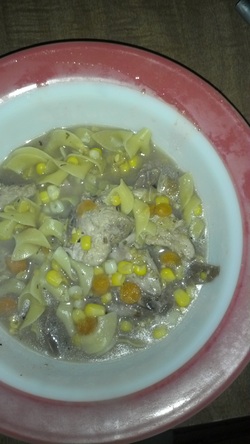 Ever had one of those days afield here you get a grouse, a woodcock or two, and several rabbits? This is my take on chicken corn soup. Whatever small game you got that day works perfect.
1. Boil meat off the bone from birds and bunnies and put the meat in the BIG pot.
2. Add broth or stock to the pot.
3. Add a can of store bought French onion soup
4. Add 4 cans of creamed corn
5. Cut up a half bag of carrots really small.
6. Add a big dusting of each: black pepper, garlic powder, basil, oregano, Old Bay
7.Let that all simmer for a few hours, add water if necessary.
8. Add
Big bag of frozen corn and 2 bags of egg noodles--let boil 10 minutes
9. Melt in butter and a large shake of Parmesan cheese at the end.
---
Spicy Sauerkraut and Rabbit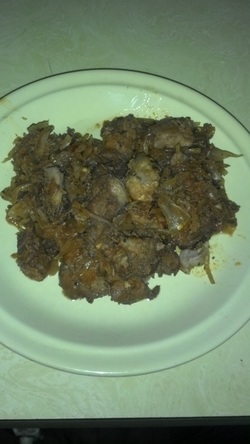 Combine the following in a crock pot and cook for 10 hours or so...
1. 2 bags of sauerkraut (2 lbs each)
2. De-boned meat of of 3-4 rabbits
3. can of beer or some apple cider
4. A heavy dusting of Paprika
5. A heavy dusting of black pepper.
6. Crushed red pepper--I like it hot, you decide.
7. A good sized pinch of garlic powder
8. a few shakes of Old Bay seasoning
9. a large pinch of onion powder.
This is spicy for sauerkraut, but I really like it. New Year's Day can now be rabbit and sauerkraut!
---
40 Clove Rabbit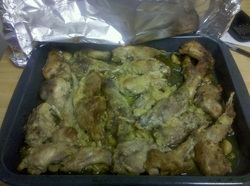 You have heard of 40 clove chicken? Try it with rabbit!
Mix all this in the same pan and put it in the oven at 350 for 90 minutes or so--until the bunny is cooked, but not dry.
1. Onion, chopped small
2. Mushrooms of your choice cut fine--I like wild Chicken mushrooms
3. Black Pepper
4. A shake of Old Bay
5. 3-4 rabbits cut into pieces
6. 40 cloves of peeled garlic--I just use a couple bulbs, however many cloves it is
7. Enough Chicken stock to cover the bottom of the pan
8. A bit of olive oil on top of the rabbit to brown it in the oven.
---
Rabbit Stew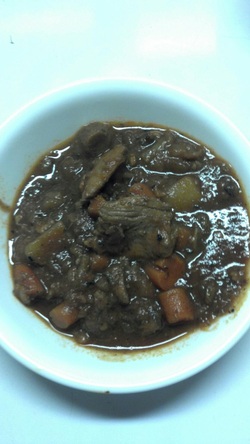 1. Cook 5-7 pieces of bacon in skillet until crisp, then break it up into your pot.
2. Caramelize
an onion. mushrooms (I like wild oysters) and garlic in the bacon grease. Then put it in the pot.
3. De-bone 5 rabbits and add it.
4. Cube 5 -7 spuds...I like the yellow ones.
5. Throw in a bag of carrots cut up small.
6. Add 8 oz or so of tomato paste.
7. Add a big batch of spinach--it shrinks.
8. Add lots of fresh ground black pepper, basil and rosemary to taste,
a little bit of crushed
red pepper if you like it, a few shakes of old bay
seasoning, a dash of celery flakes.
9. Cover all in chicken stock.
10. Cook until tender--several hours on simmer should do. Stir, and Don't let it
stick to the pot.
You can leave it in a slow cooker all day while you are at
work if that is easier.
---
Wild Chili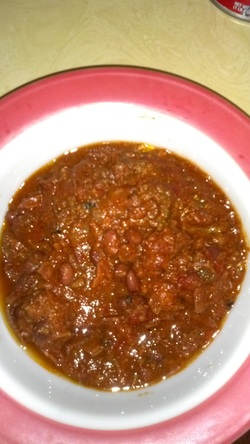 I like this recipe with hare, because I find hare to have a more wild taste--they sort of taste like the evergreens where I find them. I think they stand up to spicy recipes really well.
1. Grind up the meat of 3 or 4 hare (or rabbits). Mix this with an equal amount of ground venison and fry it with the following vegetables cut really fine: an onion, 5-6 banana peppers, 5-6 hot peppers (your choice), and 2 garlic cloves.
2.Put the cooked meat (and the peppers, onion, and garlic) in a crock pot.
3. Add a jar of tomato sauce and a small can of tomato paste.
4. Add the beans that you typically use for chili. I only use kidney beans, but lots of folks use other kinds.
5. Add a few shakes of eachof the following spices: black pepper, paprika, cumin, oreg
ano.
6. Add a little water if it needs it, or beer to follow the recipe the way I learned it.
7. Go hunting for the day and return to supper.
---
Buffalo Rabbit Wings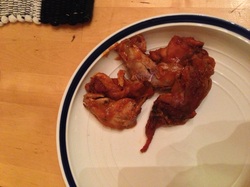 1. Save up the front legs from your rabbit hunts in a gallon bag in the freezer.
2. Dredge the "wings" in egg and bread crumbs.
3. Fry the front legs (wings) in a pan for just a minute or two.
4. Place the front legs of the rabbits in a oven safe container.
5. Cover them in your favorite hot sauce.
6. Bake at 300 for 3 hrs---nice and tender.
---
Thumper Fajitas.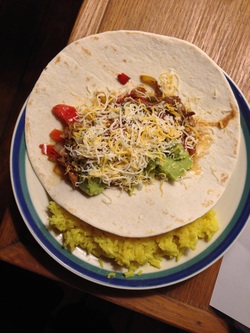 1. Save a bunch of the "backstraps" from rabbits.
2. Cook an onion and peppers until soft.
3. Cook the strips of rabbit loin with the peppers and onion.
4. I like to add a smashed clove of garlic (or two) at the end.
5. Microwave tortillas for 30 secs in a wrapped towel to soften them.
5. I like to have some cheese, guacamole, salsa, and hot sauce to add to top.
6. When I cook thin cut venison steak as well as rabbit I call this dish Bambi & Thumper fajitas.
---
Rabbit in the Hole

1. Cook ground rabbit with hot peppers (whatever kind you like) and let cool.
2.Take peppers (Hungarian wax, Poblano, habenero---whatever you want)
and remove the
stem end.
3. Scoop out the seeds and membranes from the peppers.
4. Microwave the peppers on high for about a minute--just to get them flexible.
5. Put a little cheddar cheese in the bottom of the hollow pepper, pack it full of
ground rabbit (or near full) and then put a little more shredded cheddar on
top to fill the pepper to the brim!
6. Wrap the stuffed peppers in crescent rolls. It may take several of the rolls to
cover each pepper. You can flatten the crescent dough to make it stretch
further, or leave it thicker. Cover the entire pepper.
7. Bake until the rolls are brown. It will take longer than the crescent roll
directions indicate.
This recipe works with ground venison, or whatever other meat you want to use.
---